This post will explain in details all Aio Remote features and tips & tricks that will let you do things you never imagine that you can do with Aio Remote!
post will be updated periodically.
Are you ready to control the world :)
AIO Remote. Control Computer & Android devices.Wifi, Bluetooth,Windows,Linux,Mac supported
AIO Remote stands for All In One Remote, You can control any application ever on your computer through WIFI , Bluetooth by creating your own fully customized custom remotes.
Windows, Linux and Mac are supported.
With latest version 3.4.7, Now you can control another Android phone/tablet !!
Also there is a predefined set of remotes to control mouse, keyboard, slide show, file manager, media and music players.
Key Features:
1- Control PC, Control Another Android phone/tablet.
2- WIFI & Bluetooth are supported.
3- Windows, Linux and Mac are supported.
4- Advanced custom remote designer lets you create custom remotes to control any app ever. Possibilities are limited only by your imagination!
5- Share you created remotes with all users around the world using our Online Custom Remotes Gallery:
6- Remote File Manager: Browse your files remotely and open them on your computer or Android device.
7- Advanced Mouse touchpad control.
8- Keyboard control.
9- Powepoint / slide show control.
10- Game controller with multi-touch support. and ability to design unlimited number of custom gamepads.
11- You can use up to 4 mobile devices as 4 game pads to play games on your PC/Android device remotely with your friends.
12- Control common media players (windows media player, Media player classic, winamp, VLC, Banshee, Totem )
12- Application is available on Google Play, Amazon, Samsung. It also available on BlackBerry 10 and PlayBook.
How to use Aio Remote:
Aio Remote consists of two parts:
1- the phone / tablet application you can download from Google's Android Marketplace. 2- A server application for your computer that you can download here ( www.aioremote.net ).
1- Facebook page http://www.facebook.com/All.In.One.Remote
2- Google+ page: https://plus.google.com/u/0/100219730744357033734/posts
3- mail: support@aioremote.net
5- developer twitter: @HishamBakr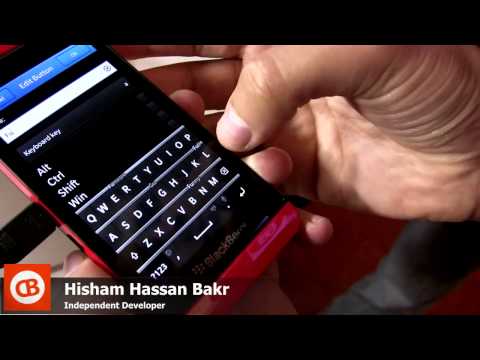 Please feel free to contact me if you have any questions. My contact details follow. Thank you in advance for considering our story for coverage.
Sincerely,
Hisham Hassan Bakr